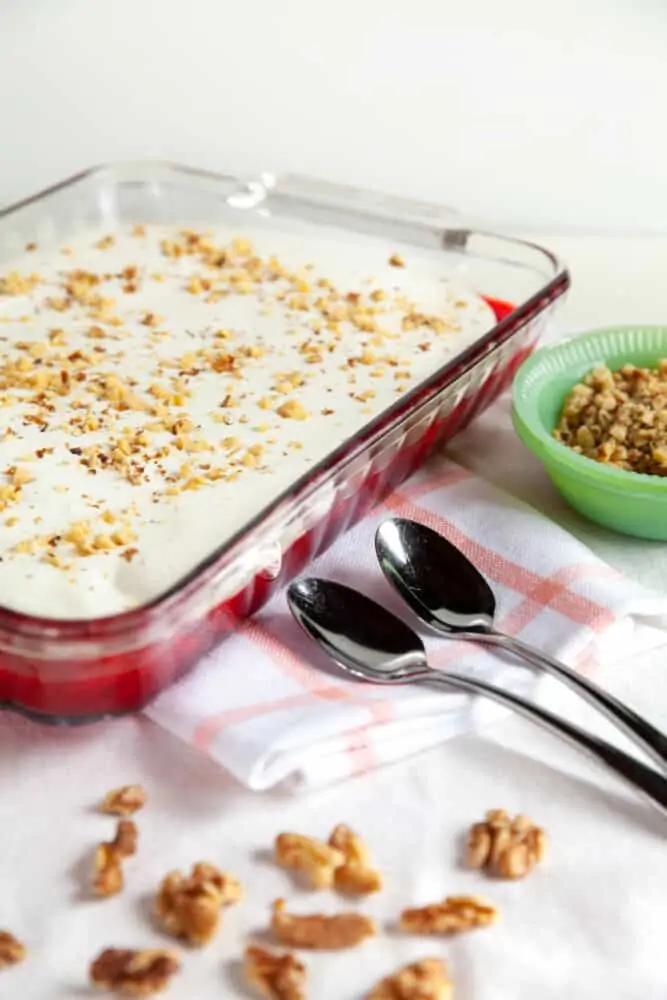 Ingredients:
1 (6-ounce) package cherry-flavored gelatin
1 (20- or 21-ounce) cherry pie filling
1 (20-ounce) can crushed pineapple
1 (8-ounce) package cream cheese
1 cup sour cream
1/4 cup granulated sugar
1/4 cup chopped pecans or walnuts, optional
Put gelatin a lage mixing bowl. Dissolve gelatin with 2 cups boiling water, mix well. Add cherry pie filling and pineapple with juice from the can; mix well. Pour into a 13x9x2-inch pan. Refrigerate until gelatin is set.
Mix cream cheese, sour cream, and sugar until smooth. Spread over salad after gelatin is set. Refrigerate until ready to serve. Sprinkle with nuts, if desired, just before serving.
Makes 12 large servings.
Note: You can substitute 2 (14.5- to 16-ounce) cans tart cherries packed in water for the cherry pie filling. Add cherries with juice from can.